...
I

n the System Tray, right-click on the FileCloud Sync icon, and then select

S

ettings

.

On the Settings window, in the Other Settings section, click Edit.

Click the Network Folders tab, and then click the Add Network Folders button.
Select a network folder that can be downloaded locally for an offline copy.
Image Removed
Image Added
Image Removed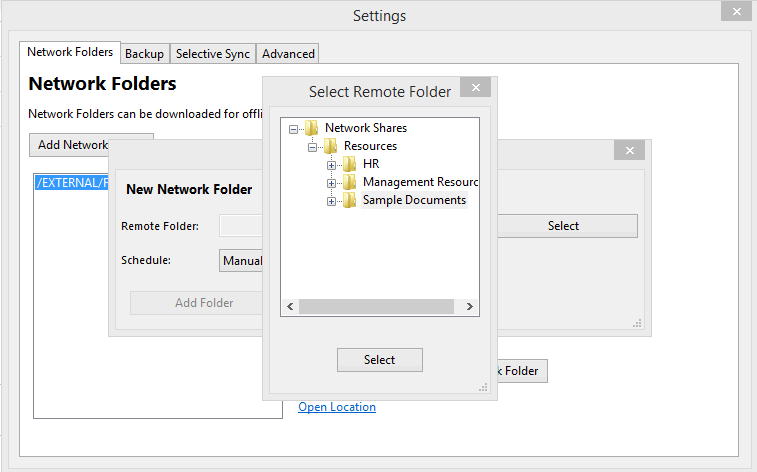 Image Added
When adding a network folder for offline access, you can choose to set the refresh schedule.
Schedule
Manual: Synchronizes this folder with the Network Folder only when the user selects the "Run Now" or the "Run Manual Tasks Now" option
Every 30 minutes
Every 1 hour
Every 2 hours
Every 4 hours
Every 8 hours
Every 24 hours
Deleting Remote Network Files with Offline Network Folder Access
By default, for security purposes, local files and folders deleted do not get deleted on the remote server. To enable remote server file delete, enable the checkbox below.
Image Removed
Image Added
To enable this option, also make sure to enable remote deletion of files via offline sync in the admin settings for the network share. See below
Image Removed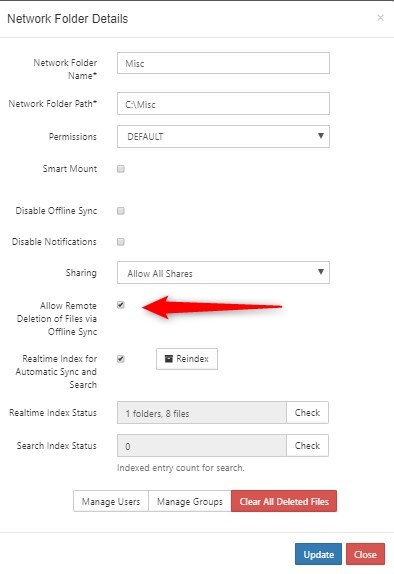 Image Added