The remote file browser functionality is available in FileCloud Server version 13.0 and later.
The ability to access details and metadata for a file directly in Sync is available in FileCloud Server version 18.2 and later.
FileCloud Sync displays as a mapped drive in a file explorer window:
Windows Explorer 

Mac OSX Finder
Sync is an alternative to using a web browser to access files stored on the FileCloud Server.
In the Sync client, the files you are working on are stored in a remote location (the FileCloud Server) and not on your local disk. 
To open Sync:
Access FileCloud Sync options by right-clicking on the icon in your system tray

To open a file explorer window, selecting File Browser.

A File Browser window opens, displaying the contents synchronized with FileCloud Server.
You can navigate to different locations in the remote FileCloud server by different methods.
Using the left hand side folder tree to navigate to different folders
Double-clicking folders on the right hand side folder listing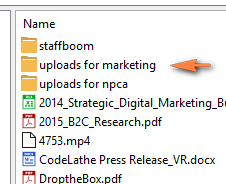 By entering the full path in the path entry text area and then pressing enter

You can also navigate to older locations that you previously visited by using the History back and forward arrows.
Refresh a File Listing
In any file listing, select the Refresh Icon or hit 'F5' to refresh the file listing.
Viewing Favorites
Quickly navigate to different folders or files saved in favorites by using the Favorites menu.