The ability to set the Date and Time format is available in FileCloud Server version 19.1 and later.
Administrators must configure the basic settings listed below.
Basic Settings Checklist
To access the settings:
Open a browser and log into FileCloud Admin Portal.
I

n the left navigation panel

, click Settings.
Click the Server tab, which is normally the default view.
It is very important that the Server URL is a valid externally accessible URL. This URL will be used for creating shares
Also if you are running multi-tenant setup, the URL is used for background cron job processing, so make sure the URL is accessible from the server running FileCloud.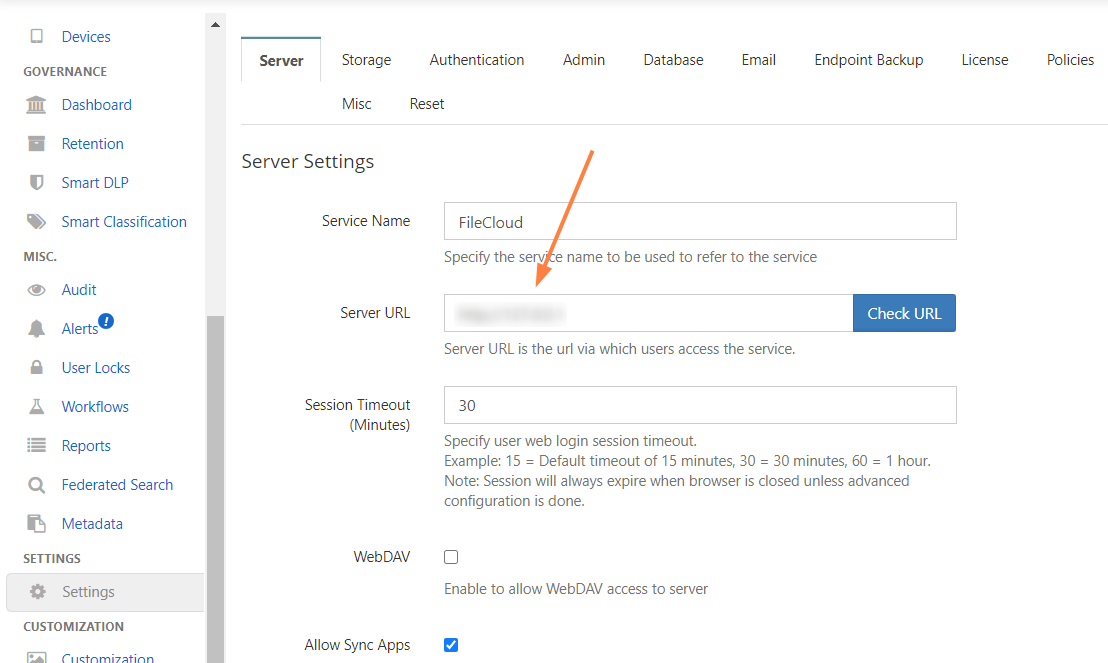 The following settings can be set on the Manage Settings screen on the Server tab, unless otherwise noted.
Settings Name
Description
Service Name
The name to be used when referring to your FileCloud service. This will be used in email messages etc
Server URL

This is your DNS entry registered with DNS service. example xyz.company.com . This is the URL by which users will access FileCloud service.
It is also required that you make this server DNS name externally accessible via any firewall you might have.

NOTE: Be sure to use the appropriate protocol prefix https:// or http:// . For production, it is highly recommended to use only https://

Session Timeout

Number indicating the number of minutes the authentication is valid. If the browser is closed, the session will be logged out. Read this to change this behavior

PLEASE NOTE: Session Timeout value is only applicable for Web browsers and not for other FileCloud clients such as Sync, Drive, Outlook Add-in etc as they store the login credentials.

Value
Meaning
15 (default value)

Session expires in 15 minutes (minimum session timeout), will always expire when browser session is closed.

1
Session Expires in 1 minute, will always expire when browser session is closed.
60
Session Expires in 1 hour,

will always expire when browser session is closed.

WebDAV

You can enable this function to allow users to mount their FileCloud home folders as a Windows or Mac or Linux drives.

Enable WebDAV support

Allow Sync Apps
This switch can be disabled to block all Desktop Sync Apps from connecting to this server. Default value is "Enabled"
Default User Portal Language

Use this drop down to select the language that is used when a user logs on to the User Portal.

Set the Language

Default Admin Portal Language

Use this drop down to select the language that is used when an administrator logs on to the Admin Portal.

Set the Language
| Video | Description |
| --- | --- |
| | This video lesson will help you understand the general settings, field description, and what each change will do. (main tab) |
| | This video lesson will help you configure the main admin settings. |