Migrating your data from Varonis DatAnywhere to FileCloud
Varonis Datanywhere will enter End of Life (EOL) in February 2020. What does this mean for existing users of Datanywhere? This means no further product development and a limited support from Varonis. It is a suitable time to look for an alternate product which offers more security and support. There may be multiple EFSS solutions similar to Varonis Datanywhere but,
FileCloud
is the only solution which offers all Datanywhere features and much more. For instance, FileCloud is also an on-premise solution just like Varonis Datanywhere, FileCloud can also be used on Windows Server like Datanywhere allowing use of Windows based network folders and preserve NTFS permissions. FileCloud integrates with Active Directly Credentials so, there is no need to recreate them.
The below guide will assist you towards migrating your data from DatAnywhere to FileCloud in just a few easy steps!
Download your files and folder from DatAnywhere
1) To download your files from Varonis DatAnywhere can be done from the Web-client / Web Portal or from Varonis DatAnywhere desktop client which is available for both Mac and Windows.
Once you download and install the desktop client you can login using your Varonis DatAnywhere credentials.
Note: The first time you login to Varonis DatAnywhere client you might be asked to enter your server URL. To obtain such information please contact your system Administrator,
2) Once you have logged in to Varonis DatAnywhere client from your Windows or Mac computer you can select which folders you would like to be sync'ed to your local desktop/computer.
When a specific item is synced, the selected item and all its parent folders are created in your DatAnywhere folder. You can also sync individual files in case you do not wish to download all the folders content.
Upon selecting the files and folders you wish to sync, you can proceed on clicking "Apply"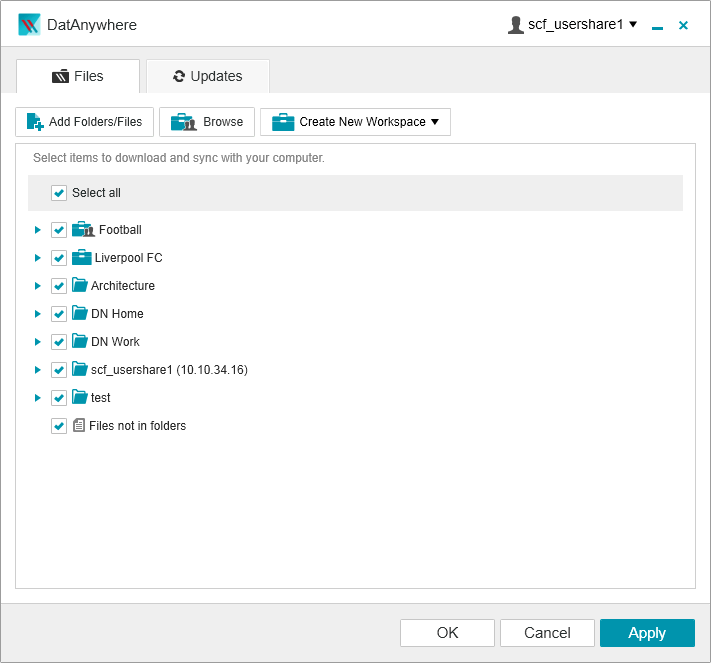 3) Once your files have completed the Sync/Download process you can access them on your Windows explorer or Mac Finder under the folder DatAnywhere.
Integrate your Network shares with FileCloud!
An easy alternative to migrate to FileCloud is to simply integrate your current Network shares to FileCloud.
To accomplish this please see Create a LAN-Based Network Folder.
Once done your users will simply access FileCloud using our desktop clients or from their Web browser to obtain immediate access to all their data!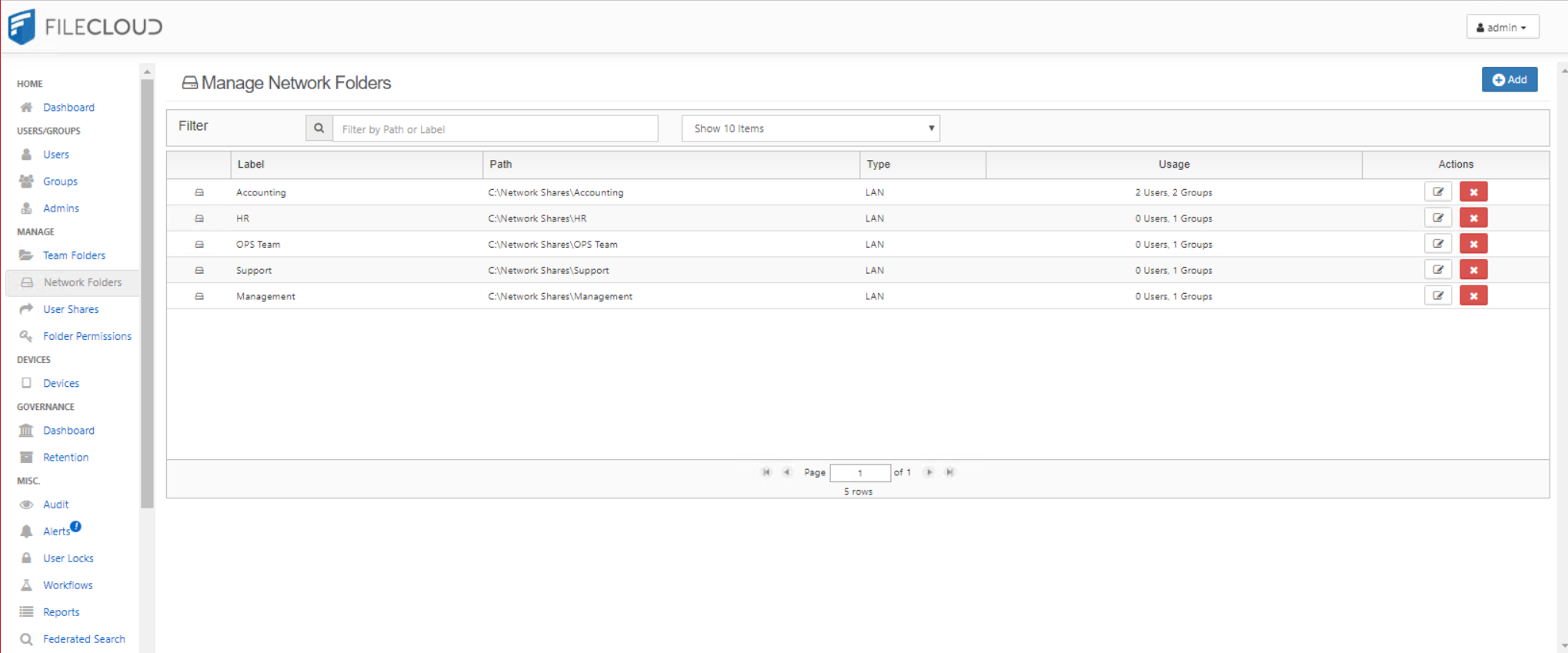 Migrating your files and folder to FileCloud
Users can upload files by either one of the two methods.
You can navigate to any folder and click on the "Upload Icon" and select files to upload. You can select multiple files.
You can also drag and drop files from your desktop into the FileCloud Web Browser window to upload the file.
Migrating your DatAnywhere files and folders using FileCloud's Sync Client
FileCloud offers a variaty of desktop clients to simplfy the way you interact with your files and folders. When migrating your files and folder from Varonis DatAnywhere to FileCloud we recommend that you use our FileCloud Sync client.
FileCloud Sync will securely upload your data to FileCloud in just 3 easy steps.
1) Download FileCloud Sync using the following LINK.
2) Install FileCloud Sync on your computer
3) Login to FileCloud Sync and Open FileCloud's Sync folder.
4) Select and Drag your files/ folders from Varonis DatAnywhere folder into FileCloud's Folder as seen below.
Once done FileCloud Sync will upload your data to FileCloud!
FileCloud Support
If you need assistance to migrate your data please feel free to contact our support team at support@filecloud.com. Please do keep in mind that FileCloud's support team will not be able to assist you in downloading your data from Varonis DatAnywhere.
If you need assistance to download your data from Varonis DatAnywhere we kindly ask that you contact your system Administrator for further assistance.