The concept of cloud computing was born 60 years ago. Yup, even before the internet, as we know it, came into play! Since then, the world has been trying to move file- and data-sharing from physical to the remote space. Let me give you a simple and prevalent example: movies & music, from physical performances, have evolved to become the radio, TV, cassettes, floppy disks, pen drives & memory cards, and finally to streaming services. In almost every technological form, we have come a long way.
What's made the cloud-based file-sharing prevalent today? If you ask me, I think the reason behind the growing popularity of cloud-based file sharing is globalization. After all, from the biggest to the smallest businesses worldwide – we all depend on globalization.
If you have a small business in a quaint locality, and you are happy with your income, why would you want globalization? The answer to that question is simple, every business, no matter how big or small, works incessantly for profit, the margin here being irrelevant.
So, if through instant data sharing, analysis, and profitable results, your business can grow, not only beyond your locality but beyond even your country's borders, wouldn't you champion such technology? I know I would.
Now, onto the most important question that you can and should ask before investing in such a novel technology:
What Can Cloud-Based File-Sharing Do for Your Business? 
The undeniably biggest benefit of cloud-based file-sharing is the increased accessibility. You and your team can access any file, at any time and from anywhere when you choose cloud-based file-sharing over traditional options.
A lot of money, time, and effort are also saved in this process. No maintenance charges, and upgrades, no need to buy extra machinery, no need to train employees about complicated infrastructures, and no accidental data leaks.
One of the biggest concerns that people have about the cloud is the issue of security. Yes, the fear of data breaches, of hackers taking away your data, and of data loss reigns supreme among the doubters. And certainly, some file-sharing solutions have had these issues in the past. However, a good file-sharing avenue is protected by two-factor authentication, anti-virus, specific permissions, policy enforcement, access control, password protection, and end-to-end encryption.
When you make smart choices in your file-sharing solution, there is no need to worry about "security issues". In fact, advanced security should be one of the reasons why you choose to move to the cloud. Now that we've discussed some of the key factors, intrinsic qualities, and FAQs of cloud-based file-sharing technology, it's time to give you some of the best options in the category. Should you choose this fast-evolving technology, you should be armed with the right information. Let's go.
The Best Cloud-Based File-Sharing Apps for You
FileCloud
Of course, we have to start with FileCloud; we believe in our product. FileCloud serves as an ever-evolving file hosting and sharing platform for businesses of all sizes.
You can use FileCloud to sync up all your data in all your devices without the need for an external storage unit, no backups necessary. Also, you can use this software to collaborate with your partners, clients, employees, project partners, and even clients if required; and that too, in a secure, hassle-free manner.
Of course, we put FileCloud first for a reason; there are many benefits associated with the solution. Here's an overview, have a look for yourself!
The administrator has robust tools and handy functionalities to monitor users, files, and sites, allowing him/her to create the best-suited workflow & policies for him/her.
FileCloud has multiple access points including, a web browser, browser add-ons, mobile apps, and a virtual drive.
With FileCloud, you can enjoy multi-level file & folder sharing. Additionally, you can share files publicly protected with passwords, or share files privately protected with permissions.
Users can enjoy endpoint backup, instant updates, customization, data loss prevention, and selective sync.
FileCloud offers its service in various price points, customized based on industrial and individual needs. Also, the scalability of FileCloud is appreciated by many.
Unlimited storage depending on client requirements is another one of FileCloud's offerings.
An added bonus of using FileCloud is that it is extremely user-friendly and always innovating to accommodate new tools and techniques to create a better user experience.
Google Drive
The Google ecosystem will never let you down. Even in cloud-based file-sharing and cloud storage, Google has brought in a winner, aka Google Drive. It is available for personal use, for industrial use, and for company use. It allows the users to access any file from anywhere, edit them with admin's permission, share & collaborate easily, and it is also compatible with a wide range of devices allotting the same benefits to a multitude of file types.
Google Drive uses a multi-layered SSL encryption along with other security measures to protect the data stored in it.
However, it is not all good and no foul with Google Drive; after all, it is limited just to Gmail. Also, it offers a limited amount of storage, the prices are a bit on the higher side after that, and Google, as we know, has faced problems with data breaches previously.
Dropbox
Dropbox launched almost 4 years before Google Drive and hereby, manages to rank high among Cloud-based file sharing apps worldwide. If you were to compare the two, you would see that while Google Drive wins at first because of its storage capacity, Dropbox wins it all because of it's foolproof, robust security, slightly easier file-sharing, and faster sync.
Dropbox has automatic file backup; so, you will not lose your file accidentally. Its advanced software integration allows it to mesh with some of the most popular companies among users, like Microsoft, Slack, etc. It can even work with comprehensive and diverse cloud storage systems. One functionality to blow your mind is Dropbox's ability to keep working offline.
The storage space, however, is limited in Dropbox. Search functionality is also not as robust as it is in others, and sieving through deleted files can be a real pain.
Box
Of course, there is no mentioning Box without comparing it to Dropbox. Box, you see, is geared towards organizations and enterprises, in simple words big conglomerates, whereas Dropbox focuses on individual consumers and SMBs. However, that has changed since 2018.
Both Box and Dropbox have been heading straight into enterprise collaborations along with cloud content management via G-Suite and similar services.
Box has more flexibility with 4 plans, it offers unlimited storage, and is cost-effective for the services it provides. Box is also extremely secure, user-friendly, corporate-friendly, customizable, and a lot more smooth-functioning. On the flip side, it has been accused of being a little non-intuitive when compared to the others, there is a lag in sync, search functionality needs a lot of work, and version control is abysmal sometimes.
OneDrive
OneDrive, Microsoft's brainchild & the new kid on the block suffered from a severe identity crisis wandering from name to name: Windows Live Folders, Windows Live SkyDrive, SkyDrive, and finally, it appears to have settled on OneDrive.
The capacity and capabilities of this software vary from version to version. However, it is considered to be one of the leading cloud storage and file-sharing platforms in the market today. People who use Microsoft Office in any way form, be it Word or Excel, prefer this software to others.
It's no surprise that OneDrive integrates very nicely with Microsoft Office, along with its mobile apps offering awesome real-time collaboration. It also offers a free plan to give the clients a taste; 15GB of free storage along with a chance to EARN extra storage space through a referral incentive. You can store and access any kind of file on it.
Collaboration is easier because it works best with Microsoft Office, it's preferred platform. An added bonus is that your company's social media networks too can be linked with your OneDrive.
As far are cons are concerned, the biggest con and the most appreciated pro of OneDrive is that the software integrates the best with Microsoft Office. With others, it's just not as good. It also has some privacy concerns, it has been one of the biggest targets of hackers, and the data is encrypted in transit through SSL but remains unencrypted at rest.
Tresorit
Tresorit, the popular cloud storage, and file-sharing service based in Switzerland & Hungary were officially launched in 2014. Did you know they hosted a hacking contest for 468 days offering people up to $50,000 to hack their data encryption methods gaining access to their servers? Nobody won. Tresorit's security is just that beefy. Many awards and accolades later it ranks as leading cloud storage and file-sharing software.
Tresorit, as discussed above, is probably the most secure cloud service provider, it has client-side encryption & zero-knowledge storage, which are quite rare. It is also easy to use, has a great syncing capacity, works on multiple devices, and each file is safe through deletions.
However, it's not all good even with Tresorit because conflict files are common, it freezes often freezing the entire device with it, it can seem a bit expensive when compared to others, it can also be a little slower, and some people complain that retrieving a lost password is quite difficult.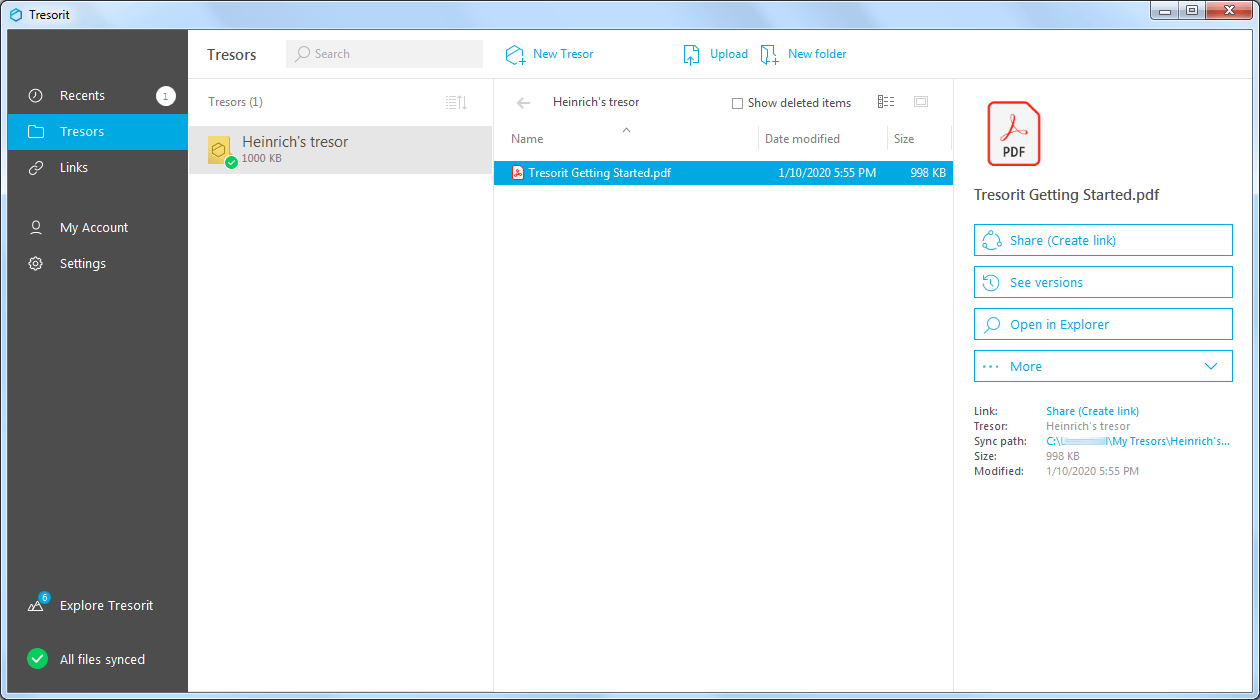 Egnyte
Egnyte hasn't been around for as many years as many others, but it has some unique features. It is a cloud platform offering "enterprise file synchronization and sharing," according to Egnyte's spokesperson. It was co-founded by Vineet Jain and incorporated in 2008, while it's mobile apps were released in 2015. With 16,000 clients worldwide, Egnyte has already reached the benchmark of $100 million recurring revenue.
Egnyte is notably easy to install and user-friendly. Amongst Egnyte's other offers are excellent file storage, file-sharing, fast uploads as well as downloads, great UI, version control, a great structure of permission, and outside organization sharing.
However, it isn't flawless. It can crash easily with large files, has some syncing issues, does not support drag & drop, tracked changes are not visible while previewing word files quickly, it can lag sometimes, and it has broken links.
Citrix ShareFile
ShareFile is a content collaboration platform offering file-sharing and syncing opportunities. ShareFile was acquired by Citrix in 2011, and since then it has been named Citrix ShareFile. It has a lot of robust and compelling features including but not limited to workflow management, an easy collaboration of documents, e-signatures, and easy Microsoft as well as Gmail integration.
ShareFile offers a free trial for 30 days with unlimited storage and inclusion of up to 5 employees. It uses 256-bit SSL, a highly appreciated security measure that is used by banks and popular e-commerce sites like Amazon. However, it has a complex folder structure, it is slow, expensive, have low upload speed, and sync might be delayed sometimes.
HighTail
YouSendIt started it's a journey in 2004 and ended up as a successful cloud service provider rebranded as Hightail in 2013 changing it's ideal from file-sharing to offering collaborating services. On it, you create a new space, name it, and create a project with a goal in it. In it, you can ask for approvals for files from included members, track activity, share drafts in a private mode with an access code. The best thing about Hightail is that despite being its competition, Hightail works smoothly with other file-sharing apps. Additionally, it comes with two types of plans, file sharing, and creative collaboration.
On Hightail, however, it might be difficult to search, links expire pretty fast, sync lag is not uncommon, and you cannot copy download links for files. Also, the paid version is quite expensive.
MediaFire
MediaFire is comparatively unknown to the cool crowd, but, it's 10GB free plan is comparable to that of Box. It can be the starting point for the budget-friendly pupil. You can easily upload files of up to 4GB in size, and MediaFire ensures that every file is scanned for viruses, a very rare feature. It is also easy to use, has great intuition, and very cost-effective.
Conclusion
Have you found a match yet? Look, the features and the prices are quite comparable, but you should always match features to price. It has to serve you in the long term. Software that is readily updated, and has great customer service, and serves you the best is your best choice. The choice is yours -- we hope that we helped you make an informed decision.
---